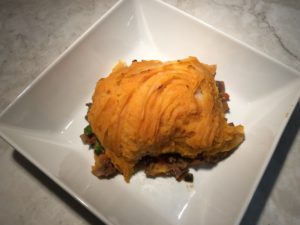 1.5 pounds ground grass fed beef
1 medium organic red onion diced finely
½ organic red bell pepper diced finely
½ to ¾ cup organic chopped carrots
½ to ¾ cups organic peas
½ cup organic green beans or peas
½ cup finely diced organic zucchini (optional)
4 to 5 medium size organic Yukon Gold potatoes
3 to 4 medium size organic Garnet Yams
**Can also use mashed cauliflower, mashed potatoes/cauliflower, or mashed butternut squash/potatoes.
Peel potatoes, cut into small pieces and boil until tender
Drain, and mash with ½ tsp salt and 1 TBSP butter
Cut sweet potatoes into pieces with skin on and bring to a boil until tender. Drain water, remove skin. Mash and add ½ tsp salt and 1 TBSP butter
** you can whip potatoes with hand mixer
Stir the potatoes and sweet potatoes together (do not beat them together)
4 to 5 cloves fresh minced garlic
1 TBSP butter
2 TBSP tomato paste
1 cup beef broth
1 tBSP cornstarch or arrowroot starch (make a roux in ½ cup water)
1 TBSP thyme
1 Tsp Sea salt
½ tsp fresh ground pepper
1.5 tsp fresh parsley
Saute onions and carrots with 1 tbsp butter and minced garlic. Add ground beef, other vegetables, seasonings. Cook thoughly (drain fat off is optional). I prefer to keep the fat in the mixture. Add broth and stir. Stir the roux to mixture.
Put beef and vegetables into a large baking stoneware or porcelain baking dish.
Spoon Potato Mixture on top. Drag a fork over the potato mixture
Bake in oven At 375 deg. for 30 minutes, until the mixture is bubbling and potatoes are brown.
Shortcuts: You can use frozen mixed vegetables or buy prechopped veggies like sweet potatoes, butternut squash and cauliflower.