3 to 4 Fish Filets (approximately 1.25 to 1.75 pounds).  I prefer to use Halibut.  You need a firm fish.
1/2 bunch of fresh cilantro.  Cut up into pieces (no stems)
6 cloves of garlic minced or chopped
Vegetables:
I red bell Pepper cut into thin long strips
1 Medium Carrot julienned
1 small Red Onion (cut into thin strips)
1 handful of green beans
artichoke hearts cut up
1 small baby bok choy cut up
1 3/4 cups of water
1/3 cup unfiltered olive oil
1 TBSP paprika (I use sweet Hungarian)
Sea Salt and Pepper
In an extra large sauce pan with lid:
I use a 14 Inch all Clad or a Le Creuset  Large Saute pan
Layer the vegetables, cilantro and garlic.
Fill pan with water.
Season fish with salt and pepper and lie on top of vegetables
Cover pan and cook on high until the water begins to boil.  At this point reduce to medium heat and cook uncovered for 10 to 15 minutes, basting the fish.  Cook until water volume reduces by about half.
Cover fish with paprika/olive oil mixture. Continue cooking on medium heat about another 20 minutes until the  liquid reduces to about 1/4 total volume.
Serve as is, with Rice or potatoes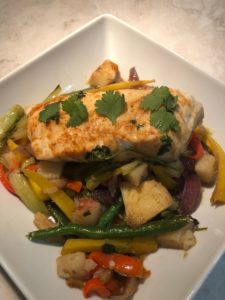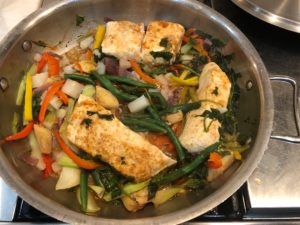 V