Crockpot Southwest Chicken Chili
**Use all organic ingredients
-1 large sweet or red organic onion chopped
-1 cup packed shredded organic carrots (they have them pre-shredded)
-2 medium size Organic red, yellow or orange bell peppers chopped
-1 can Organic fire roasted diced tomatoes
-1 can Organic Tomato Sauce
1/2 small can Organic Tomato paste
-¾ to 1 cup frozen Organic corn (sweet bi color or fire roasted)
-1/4 to ½ small can of green chiles
***Mix the above ingredients together and place in the bottom of a 3-4 Qt Crock Pot.
Add:
4 cloves of fresh minced garlic
1-2 TBSP chili powder
2 TBSP broken leaf Greek Oregano
1.5 tsp ground cumin
½ tsp fresh ground pepper
1.25 tsp finely ground sea salt
2 tsp organic sugar
***Combine the above seasonings and then stir into the vegetables in the Crock Pot***
Lay 3 to 4 whole boneless skinless Organic chicken breasts (around 1.75 to 2 lbs) on top of the vegetables using some of the mixture to cover the chicken.
Cover and Cook on LOW for 6-7 hrs. Do not stir.
Once Chicken is cooked, remove and use to forks to shred the chicken- the breasts will be very easy to shred…put back into Crock Pot and stir.
Serve with corn chips, corn tortillas. Can also be topped with shredded cheese or served with organic white rice.
Note:  You can prepare everything the day before and keep in fridge.  Pull out and set on timer the next day.  I do this a lot so I have dinner ready when I walk in the door.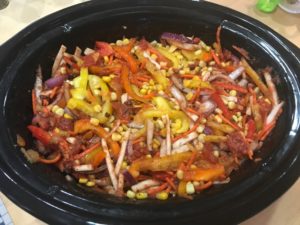 Ready to cook!